Isabel Hospice is running a series of peer support sessions starting this summer so no-one who has recently lost someone they love has to face their grief alone.
Grief Encounters is a six-week themed peer support group that aims to help people who are experiencing the confusion, fear, loneliness and pain that can come following the death of someone close. 
The sessions are open to anyone aged over 18 who lives in eastern Hertfordshire, whether they have a direct connection to the Hospice or not, and take place at the following locations:
Living Well with Isabel community hub in Hall Grove, Welwyn Garden City – 

4th July to 8th August

8th September to 10th October

14th November to 19th December

Living Well with Isabel community hub in the Wesley Hall at Bishop's Stortford Methodist Church – 

3rd August to 7th September

26th October to 30th November
Compassionate Communities lead Christine Novelli said: "Not many people realise that Isabel Hospice is there to care for the whole family and that our support extends beyond the death of a loved one. For many, the bereavement support available to them after a relative has died is a lifeline at what is an emotionally draining and distressing time. 
"Grief Encounters is facilitated by our Family Support team and specially trained Bereavement Support volunteers to give people who are bereaved a safe space to tell their story, express their feelings and find support from others who may have gone through similar experiences."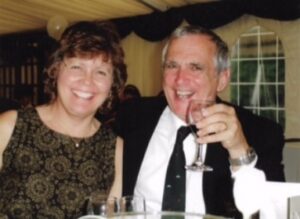 Mary Willows was one of the first people to attend Grief Encounters when it was first piloted by the Hospice. She said the support she received from the end-of-life care charity was invaluable in helping her cope with her grief following the death of her husband Keith Acheson, who had pancreatic cancer.
The 68-year-old former science teacher and ex-Paratrooper spent his final weeks being cared for in the In-Patient Unit before he died in November 2018. 
Mary said the Hospice team always showed great empathy and understanding, creating a space where people could speak openly and honestly about how they are feeling without any pressure to join in with any of the conversations. 
 Without the safety net of the Hospice, and the friendship of the people she has met at the groups since Keith's death, she said her grief would have been more isolating and harder to cope with. 
"They are the ones who have seen us at our most vulnerable," she said. "You can be yourself with no fear of upsetting anyone. Without Isabel, I would have survived but I wouldn't have coped so well. It has been the most wonderful thing to lean upon."
If you are over 18 and living in the boroughs of Broxbourne, East Herts or Welwyn Hatfield and would like more information about Grief Encounters, contact the Family Support team on 01707 382563 or email family.support@isabelhospice.org.uk.